Guadalajara, Mexico
As part of the ALO Bariatrics network, we provide leading-edge patient care by Mexico's most acclaimed physicians and offer the latest options for the morbidly obese.
About weight loss surgery in Guadalajara, Mexico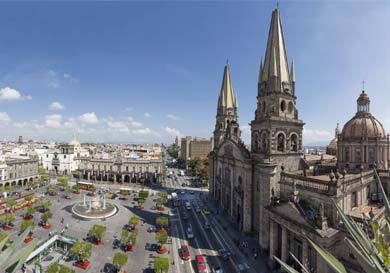 Weight Loss Clinics in Mexico
How can we contact you?
Intend To Proceed
Contact By
Once you click the button you will receive your quote in your email within a few minutes and we will never spam you.

Contact Us
Managing your weight can be a lifelong struggle. Obesity is a serious health threat; and people who weigh twice their average weight have a reduced life span and increased incidences of other serious diseases.
However, the escalating cost of health care in the US has put additional weight on obese patients, prompting them to seek affordable alternatives overseas to lose weight and regain their health.
Weight loss surgeons in Guadalajara, Mexico, offer comprehensive gastric bypass treatment program to support patients. Mexico board-certified and peer-recognized weight loss surgeons are skilled at minimally-invasive (laparoscopic) bypass, gastric band and sleeve gastrectomy procedures.
To help you maintain a healthy lifestyle, weight loss clinics in Guadalajara provide nutritional coaching to support groups for Roux-en-Y gastric bypass and sleeve gastrectomy.
Weight loss surgery centers in Mexico are dedicated to providing effective weight loss solutions tailored to the specific needs of each patient.
Patients traveling for gastric bypass surgery in Guadalajara will benefit from genuine dedication to your well-being, compassionate care and comprehensive follow-up in a warm and supportive environment.
Sights to See
If you are a history hound, the museum of Museo de la Ciudad might be of interest to you. It occupies the main house of an 18-century farm. The collection features prints from 18th and 19th centuries, artifacts of daily life from those periods, antique weapons and armors.
Cost of Gastric Bypass Surgery
The cost of gastric bypass surgery can vary widely, considering the type of surgery performed and whether or not insurance will help finance it. Other factors– such as the length of time you have to stay in the hospital or complications that may require a second surgery– can contribute to the overall cost of surgery.
Weight loss surgery treatments in Guadalajara are exceedingly affordable due to the lower cost of living in Mexico and cheaper overhead charges. Even if you are eligible for weight loss surgery in some countries, like the UK, the demand for gastric bypass surgery can be higher than the supply.
Therefore, there are usually placed on a long waiting list. Mexico sustains outstanding medical infrastructure and qualified weight loss surgeons to ensure a successful outcome and improve your quality of life.